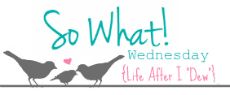 Oh Wednesday can we just skip you and go straight to Thursday! I'm linking up with Shannon over at
L.A.I.D.
for another So What Wednesday, go and link up with her!
So What if I want a do-over on today, H was up at 4 and then at 6, I had to put him in timeout 2x during parent & tot class, and then he refused lunch....
So What I'm super excited to meet some cool bloggers Sunday!
So What if I had a hangnail yesterday, pulled it, and today it is infected, swollen finger and all
So What if I have a love hate relationship with the fact that M works for a car co., he got to see the 1st roll-out of a new car yesterday...like right off the line....this is not good for a guy with a slight car obsession
So what if I'm exhausted, if I nap I won't be able to go to bed :(
So What if H's bday party is Saturday and I haven't ordered the cake or bought any decorations...complete mom fail
So What If I'm excited about MOPS tomorrow so that I can have a few hours of adult interaction!