I have been feeling a little mom guilt the past couple days :( I know most of it is irrational but that's life. I also know I am doing the best I can and that is all I can do.
Linking up my mom guilt for So What Wednesday with Shannon over at
L.A.I.D.
go join in on the fun!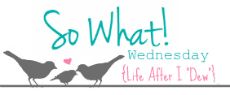 So What If...
Hudson started screaming his friend Britt's name when we drove past a playground and I almost cried, Britt lives in FL so I can't tell H we will see him anytime soon
I feel bad H isn't in a preschool, he misses school so badly
I feel guilty that H can't go to CFA and play, there stupid play area is crazy anyway
the guilt hits again thinking about how we had to cancel H's bday party :( but I keep telling myself he won't ever know he didn't have a party
I feel guilty that I want to go back to work and or school, I love staying home with H but I know how much he misses the school environment so he would do great!
I am super excited my inlaws are coming for the simple fact that I get to sleep past 5:30!!
What are you saying SO WHAT to today?