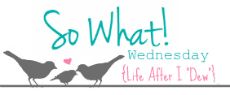 This week I'm saying So What If...
I really want M to bring me home some Mike & Ikes...hint hint
I'm actually not super excited about going to the Opry on Friday, I know I should be and want to be but I'm just feeling blah
M and I will actually get a date night up in Nashville on Saturday...dinner recs anyone?
Hudson stayed in his pj's all day yesterday
The next 2 weekends are jammed pack with family and friends and it makes me super excited and super stressed out at the same time!
I'm ready for H to poop in the potty on a regular basis...this sporadic thing is for the birds
Go link up with Shannon over at
L.A.I.D.